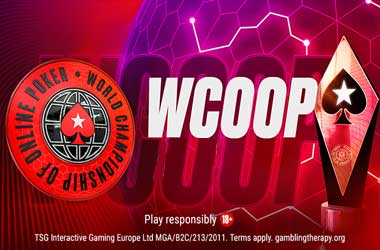 Summary
Players will once again compete in hundreds of events across 25 days
Staple tournaments, like the $5,200 Main Event and the $25K High Roller, will likely return
The overall guarantees are expected to drop due to several factors
One of the world's most popular online tournament series, the World Championship of Online Poker (WCOOP), will return to PokerStars this year, promising another 25 days of top-notch action which will run from September 4 to 28.
PokerStars has yet to release the full schedule of the 21st edition of the series, but WCOOP regulars should already know what to anticipate. Last year, the festival marked its 20th anniversary by offering an astonishing $100 million guarantee, the biggest in the history of the series, which it managed to surpass after awarding $122 million in total prizes.
The latest edition could be relatively smaller in size and guarantees but all the same, it will be another legendary series that players shouldn't miss.
What's In Store for Players?
This year's schedule will pretty much mimic those in the past editions.
As usual, the 2022 WCOOP is expected to feature nearly 300 individual events split into three buy-in levels: Low, Medium, and High. The schedule will feature multiple formats and poker variants, including the hugely popular Short Deck Hold'em.
PokerStars is also likely to run amazing promotions, including leaderboard competitions, giving players the chance to win extra prizes apart from the regular tournament prize pools.
As with the past editions, this year's series is expected to culminate in the $5,200 Main Event, with other WCOOP flagship tournaments, such as the $25,000 High Roller, also making a comeback.
Drop in Guarantees Expected
One notable change this year though is the total guarantee on offer. PokerStars will likely reduce the guarantee to just around $80 million (down from $100 million last year) owing to several factors.
First, there will be a significant drop in the number of players competing this year considering that PokerStars has withdrawn from various key markets, such as Russia which continues to invade Ukraine. The online poker giant also exited the Dutch market last year due to new regulations implemented in the country.
Players based in Ontario will also not be able to participate in the 2022 WCOOP on the global client with the launch of its regulated online poker market which is currently segregated. Ontarians registered with the PokerStars global platform have been automatically migrated to PokerStars Ontario which went live on June 28.