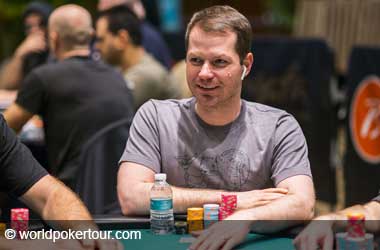 Summary
Jonathan Little allegedly snaps photos of people without their permission and sell them as NFTs
Little claims he pays all of his photograph subjects
Little's behavior described as gross and embarrassing
Jonathan Little has been widely condemned by the poker community for taking a photo of a homeless woman and attempting to sell it as NFT.
Revelations on Twitter suggest the poker pro has been doing the bizarre act for quite some time now. He previously photographed images of female butts as well as various spots in Vegas and also sold them as NFTs.
Twitter user @DMBakes shared Little's photo showing a homeless woman sleeping under a shade. Titled "Nap Time", the image is being marketed on OpenSea, a popular NFT marketplace.
The year is 2021. You're broke and desperate in Las Vegas and finally stumble into what shade you can find, closing your eyes for the first time in a day. Then @JonathanLittle comes up and snaps your photo so he can sell it on the internet https://t.co/XcjSRZKtF1 pic.twitter.com/b1eMPLMVQb

— Bakes (@DMBakes) November 14, 2021
What Are NFTs?
NFTs, or non-fungible tokens, are digital assets representing real-life objects such as music, art, videos, in-game items, and memorabilia that people can buy or sell online through blockchain technology.
NFTs have recently taken the online world by storm with multiple celebrities, singers and even Phil Ivey already making money by selling their works as NFTs. Buyers of NFTs earn digital bragging rights by becoming the owners of the original item, verifiable through built-in authentication and proof of ownership.
Poker Community Reacts
There's nothing wrong with selling your own works as NFTs, but if you're taking images of other people without their consent and then making money out of them, that's another story. And this is what Little has allegedly been doing.
Another photo taken by Little on the Vegas Strip shows two women displaying their buttocks. Many assumed that the ladies in the picture may have no idea that images of their butts are now up for sale as NFTs. Little's NFT collection also includes a picture of a Thai restaurant.
Many members of the poker community reacted negatively to Little's photos, with Brendan Kaufman saying it's unethical to sell pictures of homeless people. Irish poker pro David Lappin also expressed his disgust at Little's behavior, accusing him of exploiting his photograph subjects. The act has been described as "gross and embarrassing" by top poker pro Dan Smith.
Little Responds to Criticisms
Little defended his photos saying he only wanted to highlight Vegas as it actually is, though he admitted that keeping the tone of the titles and descriptions light was not very ideal. Little also claimed that he pays everyone he photographs, including the sleeping homeless woman who received $100, and the two ladies who were paid $20.
I realize though now that paying someone for a photo of their tough situation may be out of line. I was ignorant to this. I learned, apologized, deleted the photo, and donated $20,000 to charity. I am not sure what more you want from me.

— Jonathan Little (@JonathanLittle) November 16, 2021