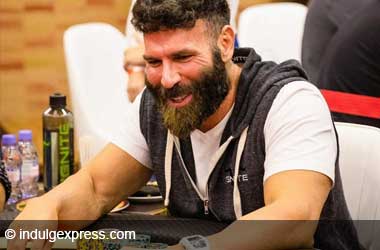 India's booming online poker market could soon welcome a new player, courtesy of Canadian gaming and entertainment company i3 Interactive. The firm has announced on August 11 that it was able to secure an acquisition deal with a still unnamed private company based in British Columbia that will see it acquire shares in an Indian poker site.
i3 is planning to relaunch the site as "Blitz Poker", and it will be fronted by poker playing internet celebrity Dan Bilzerian, who also co-owns i3's core gaming brand Blitzbet.
As part of the agreement, i3 Interactive will get a 63% share of the private BC company which currently operates an online poker site in India. i3 isn't dropping names just yet, though it hinted in its press release that the site in question has 75,000 active users, with more than 1 million members.
i3 stated that it still cannot reveal the name of the Indian poker site as the acquisition process is still ongoing. The company is expected to release more details of the "business combination agreement" as negotiations gain progress.
India's Online Poker Market Continues To Grow
I3's recent announcement has left everyone guessing as to which Indian poker site will be relaunched. Figures from PokerTracker show us that the Indian poker market is currently dominated by Pocket52, which has recorded a seven-day average of 1,500 players. Adda52 comes in second with a seven-day average of 600, while PokerStars India falls behind at number 3 with just 325 players.
Take note though, that those figures only cover the stats for cash games, which means it's still quite hard to figure out which site i3 is referring to. Looking at the numbers, it is highly unlikely that India's three biggest sites will change owners. There are still a number of licensed operators in the country, such as 9Stacks or Spartan Poker, and what the Indian poker community can do right now is to speculate.
But one thing's for sure, India will continue to become an online poker hotspot, and the involvement of Bilzerian is expected to make things more exciting and fun for local players, despite the fact that his promotional antics often come across as controversial. Former William Hill CEO Ralph Topping will also be on board to help with the re-branding of the site as it aims to tap into the country's flourishing online poker market.