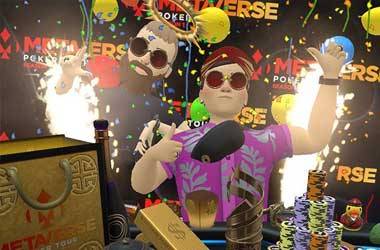 Summary
A.Chan's Main Event victory came with a $283,600,000 top prize
The win also placed him at the top of the Player of the Season race
Stop 1 took place in Macau 2050 and attracted over 7,000 entrants
The first stop of the PokerStars VR Metaverse Poker Tour Season 2 is now in the books, and among the biggest winners to emerge from the competition was "A.Chan" from Canada who took down the Main Event.
A.Chan walked away with the top prize of $283,600,000 in virtual currency for becoming the Season 2 Stop 1 Metaverse Poker Tour Main Event champion!
A.Chan Tops Player of the Season Race
A.Chan defeated "Piqel" heads-up to capture the Main Event title, with the latter settling for $179,400,000 as runner-up. "xXsaberXx21" claimed the third spot for $115,000,000, while "ShayAndRam" came in fourth for $75,000,000. "NF42" finished fifth with $50,000,000 in winnings, followed by "Donkey_Bubbels" who won $32,500,000 for their sixth-place finish.
The other two players who made it to the final table were "carpeimodiem" who finished seventh for $20,000,000, and "VEEGZ" who finished eighth for $15,000,000.
Following his Main Event victory, A.Chan is now leading the Metaverse Poker Tour Player of the Season race with 470 points, 400 of which came from his Main Event win. He is followed by "Piqel" and "Dynomutt" in second and third place respectively with 405 and 260 points.
"Catfishox" is currently in fourth place with 245 points, and coming right behind him in fifth is "NF42" also with 245 points. Rounding out the top 10 are "xXsaberXx21" (6th), "Rockwoodbuddy" (7th), "ShayAndRam" (8th), "pupirivera" (9th), and "FLAWSOME1020" (10th).
Great Start to Season 2
Stop 1 of the current season took place in Macau 2050 and attracted more than 7,000 players who got in on the action aided by a virtual reality (VR) headset. There were 48 events provided by Pokerstars in total, with buy-ins ranging from $25,000 to $100,000,000.
Apart from A.Chan, other big winners include "robithegreat" (Event #15, $125,599,996), "FLAWSOME" (Event #25, $452,500,000), and "CANofWHOOPass_1" (Event #40, $118,000,000).
The largest prize went to "theoryann" who won Event #38 for $2,390,000,000. Catfishox won two events (Event #5 and Event #47) for over $380,000,000 in total winnings.
Season 1 of the Metaverse Poker Tour was a massive success, drawing tens of thousands of players from all over the world. On top of the regular prizes, winners also received bracelets, rings, belts, gold and silver pendants, and other digital items.
PokerStars VR will add more stops for Season 2, the details of which will be announced soon.