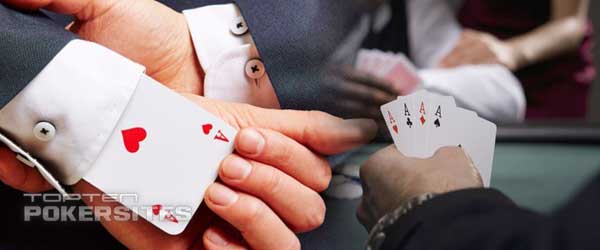 The online poker world has been rocked during the last couple of years with multiple cheating allegations that has once again tarnished the game of poker. The Mike Postle cheating scandal was the biggest online poker scandal in recent history.
While cheating scandals have rocked the online poker industry, live tournament poker players also need to be on the alert to ensure they don't get scammed at the tables.
We focus on three of the most common ways live poker players can be cheated at the felt.
Table Partnerships

Poker is an individual game where players get to tests their skills against other players. However, sometimes poker players will team up with each other and work together as a team at a live poker table to eliminate one or more players who they have already decided to target.

This is generally referred to as colluding in the live poker circuit and is illegal as it is both against the spirit of the game and against the rules of the game. The team of players will back each other at the table and make calls that protect each other and look to exploit the others at the table.

This colluding at the poker table can sometimes be hard to spot especially if it is being carried out be experienced players. Even if a player suspects that two players are colluding, it can be difficult to prove. If you have any doubts or a gut feeling that you are being targeted at a poker table – it is better to get up and leave.

Card Counting

Edge sorting or card counting is one of the oldest tricks in the game of poker and is usually done by players who have great card skills as it takes time to master this art. There are multiple ways for players to count cards these days. Some players use invisible ink or unique glasses to notice things on the deck of cards that other players are unaware off.

A lot of card counting is done at home games or poker games at small clubs as it is easy to do. However, there are also professional card counters who are willing to visit the biggest poker rooms in the world and cheat.

Dealing From The Bottom

This usually happens in private poker games when the dealer and a particular player collude. The dealer needs to have exceptional card handling skills as he/she will set up the deck in such a manner that they can issue certain cards to their 'player' from the bottom of the deck.
If you are new to the live poker scene, keep a close watch out for these live poker scams.