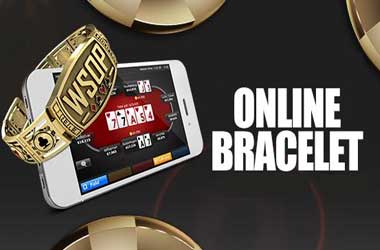 The 2021 World Series of Poker (WSOP) is currently underway at the Rio in Vegas but simultaneously the WSOP is running online bracelet events every weekend. These online bracelet events are open to US poker players in Nevada and New Jersey.
One WSOP bracelet is being given away every weekend with two weekends during the competition set to give away two WSOP bracelets. So far one of those two double bracelet weekends has concluded and in total four WSOP online bracelets have been given away.
The WSOP online bracelet events over the weekend have received a great response so far. These four bracelet events have given away more than $2.1 million in prize money and a total of 3,100 registrations came through. Out of these 3,100 registrations, there were 2,216 registrations and another 886 in reentries.
The average number of entries for each WSOP online bracelet event based on the four events completed so far is 776 while the average guaranteed prize pool for each event is just over $540,000. The winner not only gets a WSOP bracelet but on average takes home winnings of just over $119,000.
The event that had the most success was Event #3, NL Hold'em Ultra Deepstack which took place on Oct 10. The event brought in a total of 1,356 registrations and more than 1,000 of these registrations were unique registrations. The buy-in for this event was fixed at $400 and it generated a total of $488,000 in prize money.
Overall, all of the four WSOP events have done really well as the response from Nevada and New Jersey have been rather positive.
Six More WSOP Online Events Left
The WSOP is expecting to finish strong as there are still six online bracelet events. Five of these WSOP bracelet events will once again cater to players in New Jersey and Nevada but one of the WSOP bracelet events will target poker players in Pennsylvania. The next WSOP online bracelet event for Nevada and New Jersey players takes place on Oct 31.
The WSOP online bracelet events for Pennsylvania poker players will take place on Nov 21 and comes with a $1,000 buy-in. High stakes players in Nevada and New Jersey will keep an eye out for Event 8 which is the Lucky 7's No Limit Hold'em High Roller on Nov 14 that has a $7777 buy-in.