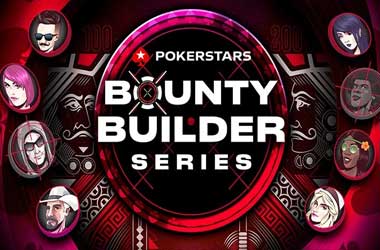 Summary
The 2023 Bounty Builder Series is underway and runs until March 20
The schedule includes four events with at least $1M in guarantees, including the $1,050 Main Event
The entire series features 169 events with more than $20 million in guarantees on offer
The popular "Bounty Builder Series" is back on PokerStars this March, with over $20 million in guaranteed prizes to be won across two weeks of progressive knockout (PKO) action. The festival kicked off on March 5 and will run until March 20, with multiple tournaments featuring seven-figure guarantees.
As the series plays out in PKO format, when elimination happens, the winning player only receives half of the bounty of the busted opponent. The other half is added to the winning player's bounty. Hence, the bounties at stake grow significantly as the game progresses.
2023 PokerStars Bounty Builder Series Main Highlights
The schedule for the 2023 Bounty Builder Series is jam-packed with 150 individual events, 19 of which come in two buy-in levels (High and Low), bringing the total to 169.
The line-up includes four events that feature at least $1 million in guarantees, the first one already played out on the opening day – the Bounty Builder Series 5: $109 NLHE Progressive KO Sunday Million which had a $1 million guarantee. A $215 buy-in version of that tournament takes place on March 12, with another $1 million in guaranteed prize money up for grabs.
The series features two Main Events – the Low version has a buy-in of $109 and guarantees $1 million, while the High version costs $1,050 to enter and guarantees $1.25 million. Both events will run on March 19.
Two of the events mentioned above, $109 Sunday Million and $109 Main Event, are among the highest-value poker games on the schedule, guaranteeing nearly $9,200 for every $1 buy-in. Bounty Builder Series 135: $11 NLHE, which comes with a $100K guarantee and takes place on March 19, also promises over $9,000 for every dollar of buy-in.
Other events on the schedule offering high value for players include the Bounty Builder Series 70-L: $55 Mini Bounty Builder HR which guarantees nearly $7,300 for every $1 buy-in. It takes place on March 12.
Bounty Builder Series Continues To Be Popular
The Bounty Builder Series is one of PokerStars' most popular online poker tournament series, mainly due to the appeal of the PKO format. The operator even decided to rebrand its iconic Sunday Million into a PKO tournament.
The 2022 edition of the series was a massive success, with the festival generating $30.6 million in total prize pool, surpassing its initial guarantee by more than $5 million. The series pulled in a total of 540,709 entries, with Brazil topping the list for most titles won.