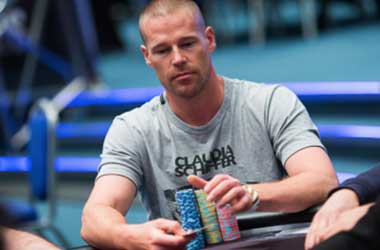 Following the success of the Patrick Antonius Poker Challenge (PAPC) poker tournament in April 2019, the man himself Patrick Antonius intends to transform the way poker is played and viewed by continuing to bring new ideas to the table.
The inaugural Patrick Antonius Poker Challenge (PAPC) was held at the Olympic Park Casino in the Estonian capital of Tallinn and served as an avenue for the Finnish poker pro to introduce his innovative ideas. Among the changes being put into practice at the tournament was the use of an advanced shot clock.
The concept works by shortening the clock before the flop and allowing more time for making post-flop decisions.
A new social poker app called First Land of Poker (FLOP), which is being promoted by Antonius, sponsored the event. The app was also launched during the tournament.
pokernewsdotcom
Players Should Enjoy Themselves
Antonius, who is currently ranked number one on Finland's All Time Money List said he is not trying to transform poker into an entertainment sport. However, he wants players to find more happiness playing the game and enjoy every aspect of it. This can only be achieved by trying out new ideas to improve how the game is played. Antonius' dynamic shot clock concept speeds up the flow of play and falls in line with this goal.  
The Finnish poker pro has lived through the golden years of poker but he does not believe the best poker years our behind him. Antonius said his main aim is to change the game and make it better for future generations. He is no stranger to the evolution of poker, having experienced how the game changed through the years, he has a great perspective of what works well and what has turned out to be a failure.
Antonius points out that a lot of players are quick to point out what needs to be fixed and improved but only a few are actually doing something to make the game better.
Future Plans For Antonius
Aside from using modified shot clocks, Antonius plans to incorporate a number of new rules against concealing live tells for future editions of the PAPC. The 2005 European Poker Tour Baden Classic Champion said poker is an amazing sport, but some aspects of the game can still be improved to create better experiences for poker players.
Antonius is considered one of the best well-rounded professional poker players in the game today. He has over $12 million in live tournament earnings and has a mission to give back to the game that has helped him to do well in life.