Many online poker rooms use a poker bonus as an incentive to bring new players to their sites and to get them to try out the games, and ultimately, make their deposit with that room, as opposed to making that first deposit with the competition.Generally this type of poker bonus comes in the form of a deposit match bonus. For examples sake, let's say you deposit $100 at 888 Poker taking advantage of their 100% first deposit bonus. You'd get the $100 you deposited in your poker account, as well as an addition $100 poker bonus from 888. The minimum deposit amount at 888 is actually just $10, the maximum's $700.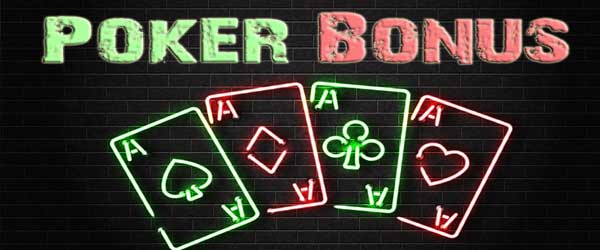 Seems pretty simple right? It's not that simple.All rooms operate differently and there are many terms and conditions that must be met and adhered to. We'll talk about those below, so just remember, these bonuses aren't too good to be true, but they are not without catches either.
Recommended Licensed and Legal US Poker sites
All Poker Rooms are Licensed , Mobile Friendly
Advertiser Disclosure
Name
Compatability
Bonus
Rating
Features

1

All players can play for free or for real money
Multiple poker game variants now available

2

Pot limit games available
All poker bonuses come with fair terms and conditions

3

Plenty of pot-limit games
All bonuses completely optional

4

Small stake poker games available
Some of the highest guaranteed poker tournaments

5

Low limit games offered 24/7
Easy to understand poker bonus offers

6

Lots of open free play poker tables
Play all of your favourite poker game variants

7

Massive bad beat jackpots available
Play free or real money Texas Hold'em games

8

Bad beat jackpots offered
Play all types of Texas Hold'em games
Welcome – Deposit Match Bonus
Just as we talked about before, this is the most commonly offered poker bonus. This bonus involves players making an initial deposit, and the poker site matching that deposit by 50-500% dependent on the offer.The most common deposit bonus percentage is 100%. PokerStars for instance offers all new players a deposit bonus of 100% up to $600.So if you were a new PokerStars player, you would click any link on this site to take advantage of that offer, you'd make a deposit of anywhere from $50.00 (PokerStars minimum acceptable deposit amount) up to $600. Then PokerStars would match that money, so you'd have double your deposit. . . after you cleared the bonus (Read the section below on bonus clearing).Party Poker offers an even bigger welcome bonus, with a 2013 Party bonus code offering 100% up to $3000.
Reload Poker Bonus
To most poker players, this is the most important bonus a poker site can offer. A reload bonus is a bonus players receive during promotions that are intended to entice deposits from existing players. Players taking advantage of these offers already have accounts; they've already made their 1st deposit, and have probably played some games. Now they're given another bonus opportunity wherein they can make a 2nd, 3rd 4th 150th, etc. deposit into their account, and receive a bonus.The bonus money is great, but that's not what's important about a reload bonus, a reload bonus is evidence that the room cares about players even after the player has committed to playing there.
Refer-A-Friend Bonus
A Refer a Friend bonus is a bonus that gives players an incentive to tell their friends about the poker room. This type of bonus usually requires your friend to sign up to the poker site, make a minimum deposit, and then generate a minimum amount of rake, basically, clearing their bonus. Once they've accomplished these tasks, you'll receive a bonus. Some sites also offer the referred player a bonus when they've accomplished the above, so both players end up with some extra free poker cash.
Clearing a Poker Bonus
At pretty much every poker site players earn points as they play poker. The points are used for a variety of things, including the poker sites VIP and loyalty programs. The points are also used to clear player's bonuses. AS players play games on the site, they're accruing these points whether they realize it or not.
Let's look at PokerStars in example:
As we've outlined above, PokerStars offers all new players a welcome bonus of 100% up to $600. Because this is one of the easiest bonuses to clear, we're going to look at the process in depth. At PokerStars, you can make 1 $600 deposit, and receive the maximum bonus, or you can make up to 3 deposits in your first 90 days as a PokerStars player and earn the bonus on each deposit, up to the maximum of $600.You must deposit at least $50 to earn a welcome bonus from PokerStars.Now here's the part that confuses most players, and has caused a few of them to think they've been misled. The bonus money is not real money until it's been cleared. That means that you cannot play with it, it will not show up in your account, it's just, monopoly money that the banker's still holding.The money is released in $10 increments as you clear it. If you want to see how much bonus money you have left to clear, and how long you have left to clear it, visit the PokerStars Cashier window and click "Check my Bonus Status".