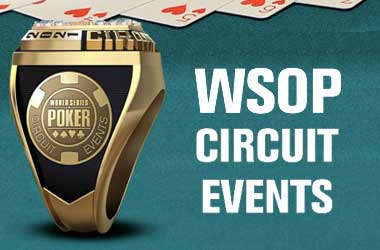 Summary:
Tallinn will host the WSOP Circuit Series from September 14-24
The Estonian capital has already hosted several major poker festivals
The city has a busy poker scene and is home to the popular Kings of Tallinn festival
Estonia's capital Tallinn is for the first time playing host to the ever-popular World Series of Poker (WSOP) Circuit series, with a festival scheduled this September at the Olympic Park Casino and Hilton Tallinn Park Hotel.
The upcoming series will be a memorable one not only for Tallinn but also for the whole of Northern Europe as it is the first WSOP Circuit event to take place in the region.
Tallinn's Burgeoning Poker Scene
Tallinn is no stranger to hosting major poker festivals, being among the most popular poker hotspots in Europe. Tallinn's love affair with major poker events dates back to more than a decade ago when it became one of the regular stops of the European Poker Tour (EPT).
The city had been temporarily absent from the international poker calendar for a few years, but it made a comeback in 2015 with the inception of the Kings of Tallinn, courtesy of the famous tournament director Teresa Nousiainen and gaming brand OlyBet Group.
Kings of Tallinn, an annual series headlined by a €1,100 Main Event, has since grown to become one of the most well-loved poker festivals in Europe, with participation numbers growing in recent years.
WSOP Circuit Invades Tallinn
When it comes to venues, Tallinn is home to some of the most well-known poker rooms in the region, including the Olympic Park Casino and Hilton Tallinn Park Hotel which will host the upcoming WSOP Circuit series from September 14-24.
Both venues have a solid background in hosting major poker events, having hosted several international festivals, such as The Summer Showdown and the Patrik Antonius Poker Challenge (PAPC).
With their vast experience hosting top-notch poker action, the Olympic Park Casino and Hilton Tallinn Park Hotel are more than capable and ready to play host to the WSOP Circuit series, the largest poker event to take place in Tallinn to date.
Tallinn also has a lot to offer in terms of off-the-felt activities as poker players get to enjoy its historical attractions and vibrant nightlife. The city is also easily accessible for travellers taking trips via land, sea, or air. The Hilton Tallinn Park Hotel in particular is just less than 10 minutes away (by taxi) from the airport.
With its accessibility, rich culture and history, and growing poker scene, Tallinn is a great addition to the WSOP Circuit list.