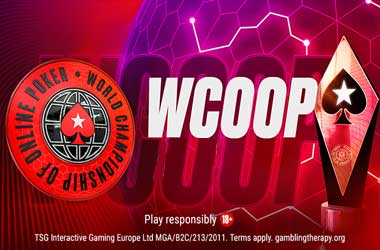 Summary:
WCOOP remains the world's biggest online poker series, awarding over $1.2 billion in prizes across 21 years
That figure could hit $1.3 billion in 2023 as the festival returns for its 22nd edition
Brazil has won the most WCOOP titles so far with 241
PokerStars' World Championship of Online Poker (WCOOP) is returning for its 22nd edition this year, with the 2023 series running from September 10 to October 4.
The operator has yet to release the full schedule of the festival, but it is expected to feature hundreds of tournaments categorized into three tiers: Low, Medium and High.
As usual, the series will culminate in the Main Events which will get underway on October 1, as per a recent blog post on the PokerStars website.
As we await the full schedule and details of the latest edition of the world's biggest and longest-running online poker series, let's take a look at the facts and figures associated with the festival as it celebrates its 22nd year in the industry.
WCOOP Creating Online Poker Champions for Over Two Decades
Since its launch 21 years ago, the WCOOP has attracted a total of 7,808,769 entries across 2,105 tournaments. The series has awarded a staggering $1,203,803,287 in total prize pool with first-place prizes accounting for $184,472,406.
WCOOP started as a nine-tournament series in 2002. The festival attracted less than 2,500 entries during its debut, with less than $800,000 in total prizes awarded. In 2003, the series saw a massive increase in participation, with the total entries almost three times that of the inaugural year. The prize pool also went over $2.7 million.
Since then, the festival has gotten bigger and better each year, hitting one million entries in 2018, with total prizes reaching nearly $100 million. In the following years, the festival awarded more than $100 million in prizes, and the biggest of them all was recorded in 2021 when online poker experienced a mini-boom due to the pandemic.
That year saw over 1.4 million entries battle it out for a whopping $122 million in total prizes. While the total prize pool fell to around $108.5 million in 2022, it was still the second-biggest WCOOP prize pool in history.
Assuming the festival awards another $100 million in total prizes in 2023, PokerStars WCOOP's total prize pool will now sit at more than $1.3 billion.
Best Performers in the WCOOP
Brazil currently holds the record for the most number of WCOOP titles with 241, followed by the UK with 213. Russia had dominated the series for several years but did not win any title in 2022 to slip down to no.3 in the stats.
Meanwhile, British player Benny Glaser leads the pack in terms of PokerStars championship titles with a total of 18 'COOP titles, eight of which he won in the WCOOP.