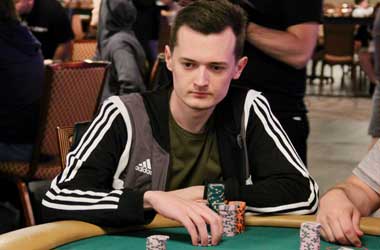 UK poker pro Nick Marchington is currently facing legal action over an alleged breach of a staking agreement during his run at the 2019 World Series of Poker (WSOP) Main Event. Marchington finished seventh in the $10,000 buy-in Main Event and took home $1,525,000.
The 21-year-old could be forced to give up 10 percent of his winnings if he ends up losing a court battle against his backers.
Marchington entered into a staking deal with Colin Hartley, David Yee and C Biscuit Poker Staking, more than a month before the scheduled event.
However, before the start of the event, the eventual seventh-place finisher allegedly attempted to cancel the deal through a text message sent to his stakers. 
pokernewsdotcom

The lawsuit states that the British poker pro was only able to return his backers' $1,200 Main Event stake after entering the event, claiming that the 10 percent share was still in play throughout the player's Main Event run. In light of this, a total of $152,500 of Marchington's prize money was put on hold by Caesars, with the said amount currently being held in a trust with the player's lawyer.
A "Better Deal"
The staking agreement was established on May 29, according to the plaintiffs, with Marchington receiving the funds on June 4. However, when the group followed up with Marchington on June 28, the player allegedly said he would likely not be playing the 5k or the WSOP Main Event.
A day later, Marchington decided to cancel the agreement and told his backers that he found a better deal with a higher mark-up. Marchington also confirmed that he would return the $1,750 stake they had sent to him.
Meanwhile, C Biscuit, who also booked a 5K event with Marchington, received a tournament receipt from the player, indicating that their staking agreement on the $5k six-max tournament was still in play.  Confused, the backer clarified with Marchington about the status of their Main Event deal, with no definite answer from the player. 
Marchington only confirmed the cancellation of C Biscuit's piece in the Main Event after playing the Day1b starting flight on July 2. Marchington said he lost on the trip and had to do what's best for himself by finding a better deal. Both parties agreed on the provision of a refund, but it was delayed because C Biscuit needed time to locate an associate who would meet with Marchington to claim the refund on the backer's behalf.
Marchington Responds
Responding to the lawsuit, Marchington's lawyers said the player had the legal right to cancel the staking deal prior to the event in question. The backers accepted the player's refund in the first place, a form of acknowledgement that their stake on Marchington's Main Event action was already terminated. 
In a tweet, Marchington hit out at the staking group, saying
Such a shame that a huge personal achievement of mine has been tainted by the greed of others