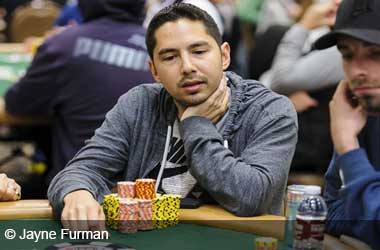 Josh "loofa" Pollock took down the second online bracelet event of the 2019 World Series of Poker (WSOP).
The American poker pro won his first bracelet in the same variant back in 2013.
Pollock triumphed in the $600 WSOP.com ONLINE Pot Limit Omaha 6-handed event, topping a field of 652 entries, including 564 rebuys. He took home the first-place prize of $139,740 along with his second career bracelet.
The 35-year-old managed to work his way through a pretty stacked final table which included Run It Once founder Phil "HeyGuys" Galfond, and US poker pros Martin "BathroomLine" Zamani, Jared "jebronlames1" Bleznick and Jason "TheBigGift" Gooch.
Final Action
The elimination of "Tane" and "Flushtr8ted", in eight and seventh place respectively, set up the six-handed final table. Canadian player Chris "Babycow" Back was the first to leave the final table, finishing sixth for $21,538.
Galfond was leading the chips for a time and was piling on the pressure with his relentless three-betting, until he ran into Gooch's flopped full house. During this time, he had to give up his chip advantage which he held since there were still 12 players left. The three-time WSOP bracelet winner saw the curtain finally coming down on him when Bleznick flopped a full house.
Bleznick is no stranger to Galfond as both had already competed against each other online. Galfond ended his quest for a fourth bracelet after exiting in fifth place for $29,680. During five-handed play, Pollock scored a crucial double up after his KcKdQc7c managed to outflop Bleznick's AcAh5h2h.
Later on Zamani became the next casualty, busting in fourth place for $41,565 in his best-ever WSOP finish. Bleznick fell short of winning his first gold after hitting the rail in third place for $59,163. He now has three top-three finishes at WSOP events, bringing his total WSOP winnings to $1,427,746.
A heads-up battle ensued between Pollock and Gooch both of whom got all the chips in the middle pre-flop. Pollock flopped a flush with Gooch hitting two pair on the turn. A help on the river could grant him a full house and beat Pollock's flush, but it did not happen, so he ended up in second place winning $85,560. It's still an impressive score for the circuit grinder who only had 14 cashes prior to his runner-up finish.
There are a total of nine online events taking place this summer as part of the 50th WSOP. The next one is scheduled for Sunday with the $600 No-Limit Hold'em bounty tournament.