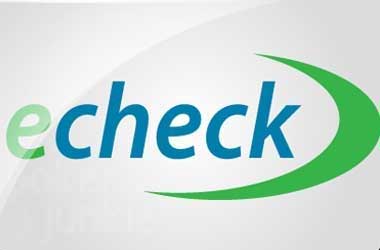 An eCheck is like using a check from your bank account, without actually tearing the check out of a bankbook and mailing it off to a company for future cashing. It still takes a couple of days to process just like using an actual paper check would, but there's no real paper involved. For instance, let's say you have a PayPal account, and you have a bank account attached to that PayPal account.If you wanted to make a poker site deposit, but didn't actually any funds in your PayPal account, you could use PayPal to process the deposit via an eCheck. Paypal would request the funds from your bank, presenting them with the electronic check and then when the funds were received by PayPal, they would forward them onto the poker site, which would then in turn credit your poker account balance.
Recommended Licensed and Legal US Poker sites
All Poker Rooms are Licensed , Mobile Friendly
Advertiser Disclosure
Name
Compatability
Bonus
Rating
Features

1

All players can play for free or for real money
Multiple poker game variants now available

2

Pot limit games available
All poker bonuses come with fair terms and conditions

3

Plenty of pot-limit games
All bonuses completely optional

4

Small stake poker games available
Some of the highest guaranteed poker tournaments

5

Low limit games offered 24/7
Easy to understand poker bonus offers

6

Lots of open free play poker tables
Play all of your favourite poker game variants

7

Massive bad beat jackpots available
Play free or real money Texas Hold'em games

8

Bad beat jackpots offered
Play all types of Texas Hold'em games
The most important thing to understand about eChecks at current is that most poker sites really don't take them anymore. Since that's the case, we'll talk a little bit about alternative poker site deposit options, then below, we'll get a little bit more into how eChecks work, or worked.
eCheck Alternatives
If you're using an eCheck at an online poker site, we'll go ahead and assume that your goal here is to make a deposit into your online poker account using funds that you have in your bank account.
eWallet's instead of eChecks
Companies like PayPal, Neteller, and Skrill are all eWallet's that have the ability to facilitate the transfer of funds from your personal bank account into your poker site account depending on each company's individual restrictions. For instance, PayPal doesn't execute gambling transactions that are originated from within the United States. PayPal is one of the most popular United Kingdom deposit methods however. The same goes with NETeller, and Skrill. They're all great options where they're available, and none of them are available in the USA.
Using NETeller at an online poker site
To use NETeller to make a deposit at a website such as 888 Poker for instance first visit www.neteller.com and sign up for a new account, or login to your preexisting account with NETeller. Follow the instructions on the NETeller website to either fund your NETeller account, or link it to your bank account, or bank debit card.Then head to 888 Poker and sign up for a new account, if you don't already have an account with that particular poker site. Right now, new players at 888 receive $8 free when they sign up for a new account.If you do already have an account at 888, go ahead and open the sites software and login, if you don't have an account at 888, click the red button at 888poker that says "Claim Your Bonus" or "Free Download". Once you've signed up for or into your 888 Poker account and gotten it all verified you're ready to make your deposit. To do this, open the poker sites software, and head to the cashier. Now simply choose NETeller as your deposit method. The poker sites software will guide you step by step from there, so you're ready to go. Just remember, if you've never deposited at 888 before, your best bet is to make a deposit of at least $50 so that you get that free $100.
PrePaid Debit Cards for Americans
If you are however attempting to make a deposit from within the United States, the best way to get money from your bank into your poker site account is likely, however unfortunately is to go to the bank, and withdraw the funds then use them to purchase a prepaid international debit card.Account Now, AAA Prepaid Visa, All Access Visa Gift Card, Paypower Prepaid Card, UPSIDE PREPAID VISA, Rushcard Prepaid Visa, Netspend, Ready Debit Prepaid Card , Bank Freedom Prepaid Visa Card, Walmart Money Card, Wired Plastic Prepaid Credit Card.There are some things to keep in mind when using eChecks, first, as you read above; eChecks are not always an instant payment method. There are some sites though that will or at least would have instantly credited your account balance, even though the transaction hasn't completed yet.
EChecks and Player to Player Transfers
Those same sites will generally not allow you to initiate a player to player transfer or to make another eCheck deposit until the funds have cleared. The player to player transfer restriction generally remains in force no matter what happens afterwards. If you make a Visa deposit of $500, and you echecked $40, and then you win $440, you still won't be able to stake your buddy in a $10 sit n go until after that eCheck clears.This is a fraud protection that's meant to keep players that have obtained another players password or deposit information from making huge deposits, and then sending the money to a bunch of dummy accounts and cashing it out.