There are a couple of ways to play tournament style poker games. One way is at your local casino or card room belly up against real live poker tables, battling it out chip to chip as you make your way to the final table.Another venue for poker tournaments is the friendly home game tournament. Where a group of friends often gather in one of the groups living room, or garage, and play a tournament for a specified buy in amount.And, since about 2001, the Internet has added another element of excitement to the game, because it provides tournament poker players micro stats, and non-stop round the clock tournament action. Whether it is an online poker tournament or just a game between friends, poker is a card game that will undoubtedly be enjoyed for many years to come.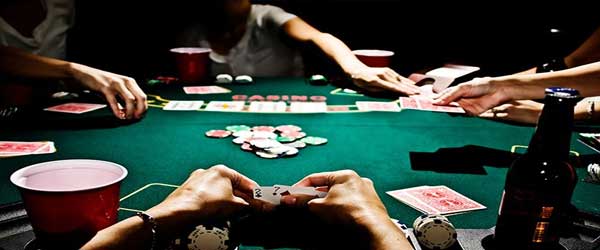 After Moneymakers win, the world of Internet Poker pretty much blew up, and much of this happened when Chris MoneyMaker, an ordinary average guy, with a real cool last name, became a millionaire buy playing in a poker tournament after satelliting his way in (meaning he paid a very small buy in into an online poker tournament and won his way into the WSOP main event)In fact, there are many variations of poker tournaments with tourneys of various buy– levels and formats, including re– tourneys, satellite tourneys, freezeout tourneys, and turbo tourneys, so avid card players are sure to find a tournament that will suit their skills and preferences.Poker tournament can begin with any number of players, depending on the availability of resources for the tournament organizers.Once the tournament gets started, the number of players is dwindled down through rounds of elimination, with the blinds going up after every level. The elimination can occur any time a player is all– for his chips and loses the hand, but the players are redistributed after each round in order to keep the number of players at each table even. The prize for the winner of a poker tournament is usually the "pot" which is usually a percentage of the combined entry fees.Generally the tournaments with the biggest player pools have the biggest first place prize.
Playing Online Tournament Poker
The growth of online poker has contributed to the number of card players who are interested in playing online tournament poker.Many gaming sites for poker players offer a regular schedule of online tournaments to add to the excitement and thrill of playing poker on the Internet.Tournament players will undoubtedly appreciate the many available opportunities to participate in an online poker tournament from the comforts of their couch. All of the top online poker rooms with reliable reputations are guaranteed to host small and big tournaments of varying stakes for all players. These leading poker sites give online tournament players the chance to play with real money that they can deposit into their player account through credit cards or a variety of other methods.The online tournaments on these sites come in different formats, including sit–– and multi– tournaments. If you are playing in a tournament with multiple tables, the winner of each table then moves to the next table until there is an ultimate winner declared.
Tournament Poker Strategies
Even though poker is a game with an element of luck, you can utilize various tournament poker strategies to increase the likelihood of winning a poker tournament. When it comes to winning poker tournaments, playing aggressively is encouraged because it keeps your opponents guessing. A lot of players are fearful of getting knocked out of the tournament, so you can exploit this weakness to build up your chip stack. If you tighten up too much it becomes very difficult to build a big enough stack to win the tournament. Your opponents will notice your aggressive playing style and by the time you have built up a big stack, you will eventually wake up with a monster hand and get paid off.When sitting down to participate in an online poker tournament, you will also want to get comfortable. Make sure you have a comfortable chair as well as refreshments nearby so you can continue playing without breaks.Finally, keep an eye on your chips. Many chips make each play less significant, so punish the short stacks if you have the chips. If you only have a few chips, however, each play could either make you or break you, so wait for a good hand to go all– with.